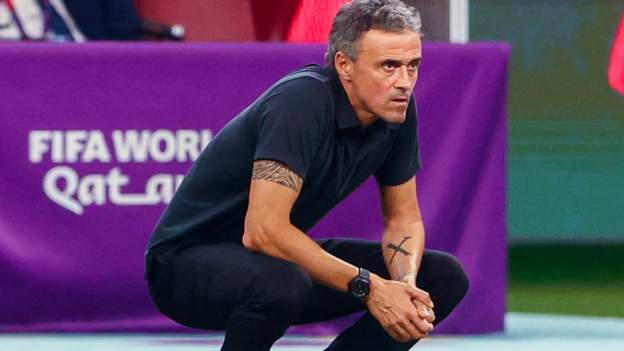 Spain coach Luis Enrique hopes his players' "homework" of practising 1,000 penalties will pay off against Morocco in the World Cup last 16.
Enrique says he set his players the task over the last year in anticipation of facing spot-kicks in the knockout stages of the tournament in Qatar.
Spain were eliminated on penalties by Italy in the semi-finals of last year's Euros.
"I imagine that they have done their homework," said Enrique.
"Over a year ago, in one of the Spain camps, I told them they had to get here with at least 1,000 penalties taken," Enrique said.
"If you wait until getting here to practise penalties... [it won't be enough].
"It's a moment of maximum tension, a time to show your nerve and that you can shoot the penalty in the way you have decided, if you have trained it a thousand times.
"It says a lot about each player. It's trainable, manageable, how you manage the tension. It's increasingly less luck - the goalkeepers have more influence.
"We have a very good goalkeeper, any of the three can do very well in this situation. Every time we finish training, I see a lot of players taking penalties."
Meanwhile, Morocco wing-back Achraf Hakimi says he thinks his side can "pull off another surprise" against Spain.
The 24-year-old, who was born in the Spanish capital Madrid, could have been lining up for the opposition for his international career.
Hakimi, who had been selected for Spain's junior teams, said: "It is something unique playing for your country and especially now that we are making history.
"It's incredible to see how people are living it with us, and that energy transmits a lot to us and gives us strength to continue and look to do great things."
Hakimi was signed by Real Madrid aged seven, before breaking into the first team and then moving to Borussia Dortmund on loan. He has since won the Serie A title with Inter Milan and now plays for French giants Paris St-Germain.
Hakimi says his side - who were denied a World Cup victory over Spain in the group stages four years ago when Iago Aspas scored an injury-time equaliser - "deserve a little respect".
"Four years of experience since have meant I've come with a more mature mentality," he added.
"Spain are a top-five team and always come to the World Cup to win but our coach has also taught us to have a winning mentality. It doesn't matter who we are up against. We are going to play our way and try to beat them.
"We finished first in the group and I think we deserve a little respect. I think that Spain know that and that they have to be a little afraid of us. Why can't we pull off a surprise again?"
-- Courtesy of BBC Sport