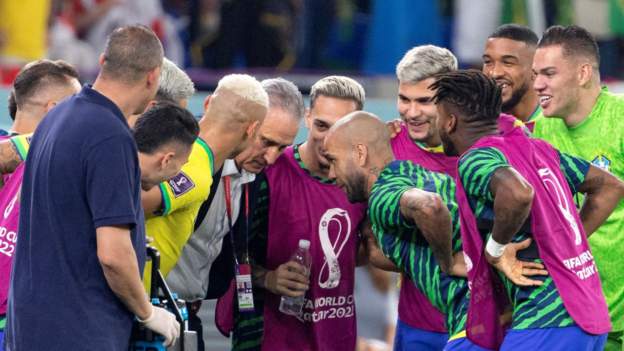 Brazil coach Tite says he will not apologise to those who "do not know Brazilian history and culture" after criticism of his players for dancing after scoring goals at the World Cup.
Tite, 61, even joined in with the celebrations during the 4-1 win over South Korea in their last-16 match.
"It is a connection I have with the younger generation - they could be my grandchildren," he said.
"If I have to dance to be connected with them I will continue to dance."
Speaking before Friday's quarter-final against 2018 runners-up Croatia, he added: "I'm not going to apologise when it's our culture to dance and have fun."
Brazil forwards Vinicius Junior and Neymar both led orchestrated dance moves after scoring the opening two goals against South Korea, with Richarlison running over to the bench and beckoning his manager to join in following the third.
Former Republic of Ireland captain Roy Keane was not impressed and said he thought the moves were "disrespectful" towards South Korea.
Tite rejected those accusations and says he has a responsibility to preserve the identity of Brazilian football.
"I will not make comments on those who do not know Brazil history and culture like we do," he said.
"I want my connection to be to the people who I relate to, who know how much I respect our history, they are the ones who I give my heart to.
"There might be lots of kids who dance because that is what Brazilian culture is when a goal is scored. That's not being disrespectful to anyone else - that's what we do, that's us.
"We will continue to do things in our manner."
Meanwhile, Croatia coach Zlatko Dalic says it has been a "tremendous" feat by his squad to reach the last eight.
Only four of the players who started the defeat by France in the 2018 final were in Dalic's starting XI against Japan in Monday's last-16 game.
"This is a new national team. We have 18 new players who were not here four years ago," said Dalic.
"In 2018 we had a national team that had been playing together for 10 years. They were playing in the best leagues and for the best clubs.
"We need time to mature but I believe that for us to be here at this World Cup among the best eight teams in the world is tremendous."
Brazil face Alex Sandro wait - team news
Brazil coach Tite's biggest concern seems to be at left-back. Alex Telles was injured early in the tournament, while Alex Sandro picked up a hip injury in the group stages and missed the last-16 tie against South Korea, with his Juventus team-mate Danilo deputising instead.
In his news conference on Thursday, Tite said 31-year-old Sandro would take part in training on Thursday and "then see if he can play".
Croatia coach Zlatko Dalic says he has no new injury concerns.
Full-back Borna Sosa has been training again after missing Monday's penalty shootout win against Japan through injury.
-- Courtesy of BBC Sport