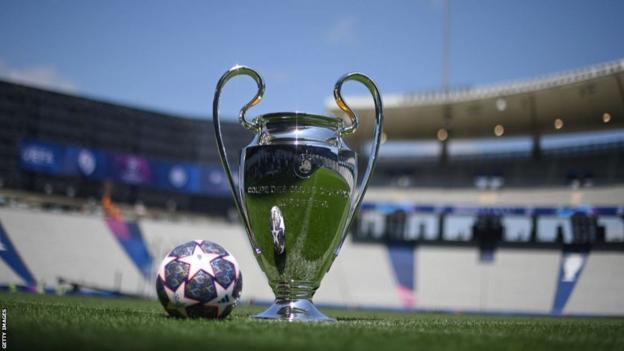 Manchester City face Inter Milan at Istanbul's Ataturk Olympic Stadium on Saturday, with kick-off at 20:00 BST
Manchester City will look to win the Champions League for the first time and complete the Treble when they play Inter Milan in the final at the Ataturk Olympic Stadium in Istanbul.
Pep Guardiola's side have already won the Premier League and FA Cup.
It is the second time in three years City have reached the Champions League final, losing to Chelsea in 2020-21.
"We just need to find a way to win the first one," City playmaker Kevin de Bruyne told BBC Radio 5 Live.
"If we could do that, it would be immense for the players, the clubs and the fans."
Manchester United are the only English side to have won the Treble - Premier League, FA Cup and Champions League - achieving the feat in 1998-99.
City head into Saturday's final in ideal form having lost just one of their past 26 games in all competitions and also going unbeaten in Europe this season, winning seven of 12 matches.
Guardiola is chasing European success for the first time since winning the competition in 2011 with Barcelona, with whom he also secured a treble two years earlier.
On paper, his City side appear even more formidable than that of Barcelona in 2008-09 - Barca, who lost once en route to the final, scored 32 goals and conceded 13 that season while City, with one game still to play, have scored 31 goals so far and conceded just five.
Asked about his success, Guardiola said: "I had [Lionel] Messi in the past and [Erling] Haaland now. This is my success. I am not joking, this is the truth."
Inter, under Jose Mourinho, knocked Guardiola's Barcelona out in the semi-finals on the way to winning a treble of their own in 2010, but this will be the Italians' first meeting with City.
"This is the finish. The Champions League is an incredible competition," added Guardiola. "It's absolutely a dream, yes.
"To achieve things you always have to have the correct proportion of obsession and desire. It's a positive word, willingness to try to do it, of course."
-- Courtesy of BBC Sport