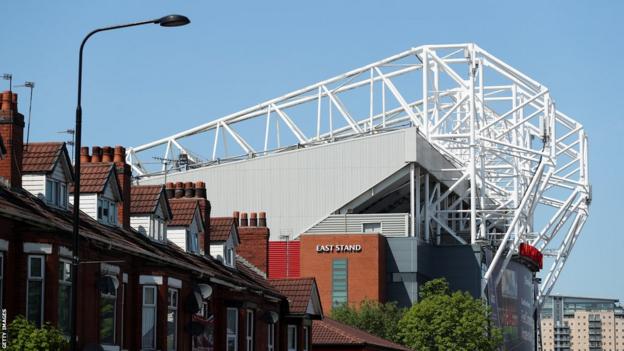 Manchester United are up for sale
Manchester United's owners spoke to Paris St-Germain chairman Nasser Al-Khelaifi a month ago in an effort to get Sheikh Jassim bin Hamad Al Thani to increase his bid for the club.
BBC Sport has been told it was instigated by the Glazers, who have known Qatari Al-Khelaifi for years.
Sheikh Jassim and Jim Ratcliffe's Ineos Group are competing to buy the club.
The Qatari banker made a fifth offer this week with a warning he would not engage with the process beyond Friday.
It is privately being claimed the conversation did not work as the bid for a full takeover was not increased.
It has been reported Al-Khelaifi has also met with the Raine Group, which is handling the sales process, although this is being denied by a source close to the PSG chairman.
Those same sources are also adamant Al-Khelaifi has no role, either officially or unofficially, in United and the bid is completely separate to PSG, amid suggestions other Premier League clubs want any sale to Sheikh Jassim fully investigated due to a feeling it would be centrally funded from Qatar.
Concerns have previously been expressed around potential conflicts of interest with Al-Khelaifi's club role, and his status as chairman of the influential European Clubs' Association and his close relationship with Uefa president Aleksander Ceferin.
Sources close to Sheikh Jassim have repeatedly claimed his proposed purchase is being made in a private capacity.
It has been established Al-Khelaifi has spoken to Sheikh Jassim to offer his experiences around running a major European club.
It is not expected Sheikh Jassim will make any statement around the self-imposed Friday deadline and he is not intending to withdraw his bid.
-- Courtesy of BBC Sport