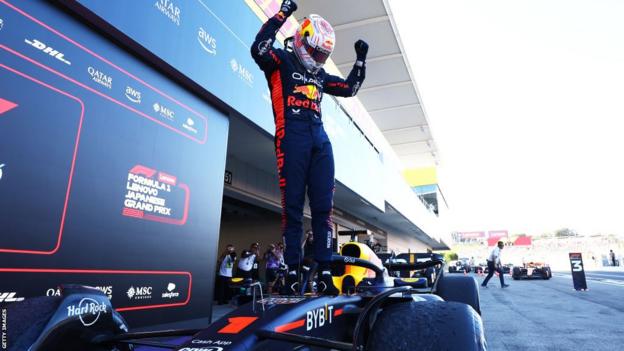 Verstappen won his 13th race of the season
Red Bull's Max Verstappen dominated the Japanese Grand Prix to take his 13th victory of the year and help his team clinch the constructors' title.
The Dutchman fended off the McLarens of Oscar Piastri and Lando Norris at the first two corners and then motored away into a race of his own.
Norris passed Piastri after he had to back off for Verstappen's defence and went on to secure second place.
Piastri followed him home in third for his first podium in his debut season.
The McLaren drivers had to pass Mercedes' George Russell after the final pit stops as the Briton tried a rare one-stop strategy after an early hectic and feisty battle with team-mate Lewis Hamilton.
Russell's gamble failed to pay off - after the McLarens passed him, both into Turn One, he was then passed by Ferrari's Charles Leclerc for fourth with a lovely move around the outside of Turns One and Two.
In the closing laps, Russell also lost out to Hamilton and Ferrari's Carlos Sainz and dropped down to seventh, with Hamilton fifth and Sainz sixth.
It was all window-dressing compared to the imperious Verstappen, though, who was once again in a league of his own, his driving justifying the quality of one of the greatest racing cars ever built as Red Bull clinched a second constructors' championship in a row and a sixth in all.
Verstappen is now likely to win the drivers' title at the next race in Qatar, quite possibly in Saturday's sprint race.
As long as Perez does not score six more points than Verstappen in the sprint at Losail, the Dutchman will be champion for a third time.
-- Courtesy of BBC Sport